Trigun....
Autor opisa: GoKu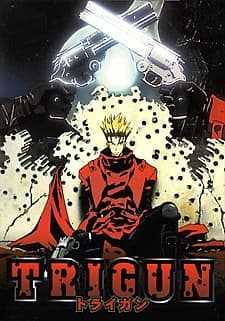 Trigun takes place in the distant future on a deserted planet. Vash the Stampede is a gunfighter with a legend so ruthless that he has a $$60,000,000,000 bounty on his head. Entire towns are evacuated upon hearing rumors of his arrival. However, the real Vash the Stampede is not the same man that rumor portrays him to be. The enigmatic and conflicted lead character in Trigun is actually more heroic in nature, and at times a complete and utter idiot.




Godina: 1998
Epizoda: 26

Prevod možete da skinete ovde:
https://www.anime-overdose.com/titlovi/trigun-78.html

Odgledao sam jos odavno ovu seriju i ono sta da kazem. Na pocetku je zanimljiva, na sredini nije jasna, a na kraju ni sam ne znas sta gledas. Sve je pocelo kao dobra komedija, a kako je vreme proticalo, serija se pretvarala u sve ozbiljnije stivo. Na kraju mogu samo da kazem da sam je upamtio kao osrednju seriju, ali verujem da kada bih je opet odgledao mozda bi mi i bila bolja, posto nisam bas do kraja sve stvari shatio kako treba.