[Kultura] Fuyuko Matsui, slikarka tame
[align=justify]Iako slikarstvo nije moj domen, nisam mogao kad-tad dublje da ne dođem u kontakt sa njim. Pažnju mi je privukao novi pokret koji se u Japanu zove Neo-Nihonga (Nihonga znači "japanske slike") koji koristi tradicionalne metode slikanja ali daje im novi život savremenim temama i problemima. Uticaj Takašija Murakamija se nije mogao izbeći i teme će često biti bliske modernim otakuima. Akira Jamagući (Akira Yamaguchi), Kumi Maćida (Kumi Machida), Hisaši Tenmjoja (Hisashi Tenmyouya) i slikarka najmračnije tematike od svih navedenih, Fujuko Macui (Fuyuko Matsui).




Fujuko (冬子) na japanskom znači "zimsko dete" i prigodno tome, rođena je 20. januara 1974. Ono što iznenađuje u susretu sa njom, ako ste prvo videli njene slike, je njena lepota, a ako prvo sretnete nju, iznenadile bi vas njene sklonosti, tako vidljive u delima.

Evo šta sama kaže (u intervjuu sa časopisom za kulturu, Culturekiosque-om):
"I don't like sweet and cute art. Japanese art nowadays is like that, but if we think in centuries, in the Kamakura period for example, it was scarier, more ghostly. I want to return to that taste in my art."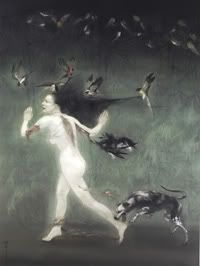 Prikazuje samo žene, odrasle, stare ili mlade, ali nikad muškarce. Zašto?
"Men and women are different. A man's power is throughout his body, but a woman has her power in her uterus, so I think a women's body is centred in the uterus. In a way, she is actually showing off, just like the flowers in the picture are showing off their sexual parts."




"I don't have any message. I just want to tell how it feels to be a woman. Because I'm a woman and I don't have a man's body, I can only paint a woman's feeling."
Zaista nema šta mnogo da kažem o njenim slikama što se ne može videti – i sam sam tek početnik u njenom svetu. Osim da dodam da je završila Tokijski nacionalni univerzitet lepih umetnosti i muzike kao najbolja u klasi.

"In a way I'm doing something that the viewer can't do himself. It's like people who occasionally think about jumping under a train. In my art I'm actually jumping under the train. That shock – I'm doing it for you."

Teks napisao ridiculus