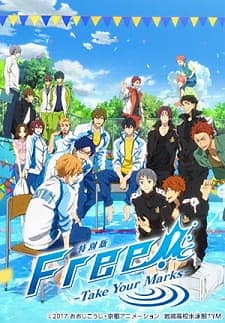 Tip:
  Film
Broj epizoda:
  1 (Ali podeljen je film na 4. dela)
Žanr:
  Škola, drama, sport
Studio:
  Kyoto Animation
Godina:
  2017
Opis:
Radnja se odvija između dešavanja Free! Eternal Summer-a i Free!: Dive to the Future. Ovaj film govori
o poslednjem letu maturanata kroz četiri različite priče pre nego što krenu u budućnost.
Ovaj film ću kao prevesti, tj. možda i neću prevesti do samog kraja, a ukoliko se to desi, baciću ovo čudo u otkazane projekte. Za sada sam preveo 1. deo, ako je ikoga briga