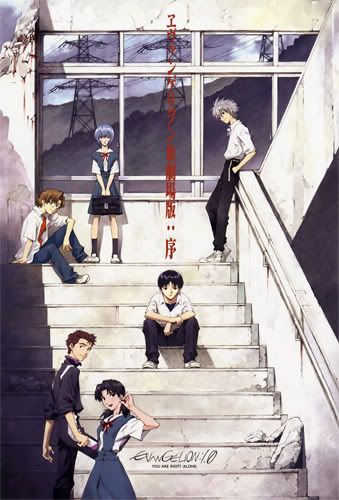 Evangelion Shin Gekijouban: Jo
(
AniDB
|
Wiki
)
Genre:

Action, Aliens, Angst, Anthropomorphism, Human Enhancement, Mecha, Piloted Robots, Post-apocalyptic, Seinen, Tragedy
Plot/Summary
Quote:The first of 4 movies that retells the anime story from 1996.

The director Anno Hideaki affirms that everything remembers its old home, studio GAINAX, when he counts on creating a new, improved and updated Evangelion. The film is being handled by the production veteran that worked on the original Evangelion, as well as other new talents; the director suggests that this will exceed the success of the past series.

Anno is responsible for writing an adaptation for the cinema version.

For those who know the original series well, expect it to have surprises: new characters, new EVAs, and a fresh ending.
Comment:
Prvi film je skoro identican seriji sa nekim manjim ubacenim detaljima, sa kojim mislim da su objasnili malo vise pozadinske price, ne secam se kada se u seriji pojavili ovi Seele ali verovatno ne ovako rano.
Uglavnom scene su ostale verne originalu, samo je vizuelno sve lepse odradjeno.

Treci (sesti) Angel je izuzetno dobro odradjen, kako konstantno menja forme i daje muke covecanstvu.
U prvom filmu necete videti puno novoga ali zato je drugi film skroz druga prica.
Evangelion Shin Gekijouban: Ha
(
AniDB
|
Wiki
)
Genre:

Action, Angst, Mecha, Piloted Robots, Post-apocalyptic, Seinen
Plot/Summary
Quote:Determined to completely renovate the Evangelion universe, last year Anno Hideaki, its creator, embarked on a new tetralogy that made the most of the latest animation technologies and meant a new beginning, closer to his original desires. Evangelion 1.0, presented at Sitges'08, re-updated the series' first six episodes and Evangelion 2.0 continues the task with the following fourteen. Mari, a new pilot, joins the NERV crew to continue defending Tokyo-3 from the Angels' attacks as the 'Third impact' approaches, a catastrophe that, if it occurred, would permanently change humanity's destiny.
Comment:
Drugi film ima mnogo izmena u odnosu na seriju, ovo je neki uvod za neki skroz drugaciji kraj.
Neki detalji su bitno izmenjeni, u nekim momentima sam video wtf. Cini mi se da je Shinji malo psihicki stabilniji nego u seriji, mada je imao i sad svojih momenata, sa razlogom naravno.
Sad samo treba docekati preostala dva filma.
PS znam da postoji Evangelion tema ali posto su filmovi alternativni ne bi bilo lose da bude ovako posebna tema da ne mesamo, ako se to ne svidja modovima neka spoje teme.