Bas me cudi da nikoga nije interesovalo da bar proba da nadje Devil May Cry anime seriju posto je mnogo dobra tj. bar za mene jeste.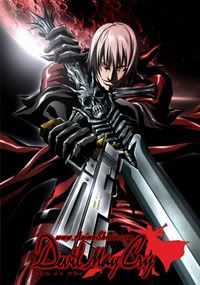 Pola covek a pola demon, Dante, je lovac na demone. Kroz svoju firmu "Devil May Cry" on resava covecanstvo demona koji su presli u nas svet.
Ova anime serija od 12 nastavaka, prati avanture ovog stajlish belokosog lovca na demone koji uz pomoc svojih (zenskih) prijateljica dominira demonski svet.
Bazirana na popularnoj CAPCOM-ovoj Playstation i PC franshizi "Devil May Cry" je podbacio. I to debelo.
12 epizoda u kojima Dante lovi demone na ovaj ili onaj nacin, tesko da ce se dopasti cak i najokorelim fanovima ove igre.
Animacija ove serije pocinje u velikom stilu prateci smekerski - "Stylish!" fazon koja je ova igra donela na Playstation. Vec posle nekoliko epizoda pocinje da se primecuje lenjost animatora i eksploatisanja vec poznatih anime sekvenci i kadriranja. Rekao bih da je animacija prosecna za danasnje anime standarde.
Likovi u ovoj seriji kao da ne postoje. A i kome trebaju kada je tu Dante. Lenj, u dugovima, jede samo pice i decji sejk od jagode. Ali zato dobro izgleda. Ima dve utoke i preterano veliki demonski mac. Savrseno za americkog debelog trinaestogodisnjaka. Hisashi Abe je savrseno izdizajnirao Dantea. Covek iza sebe ima imena kao sto su "Gunslinger Girl", "Vampire Hunter D" i "Chobits". Ali to nije dovoljno.
Recenziju možete pročitati na
Devil May Cr